This interview was conducted and first published by Kayleigh, otherwise known as Kayleigh K MUA! Kayleigh is one of the fab makeup artists I've worked with in the last year, check her website linked above to see more or find her @kayleighkmua on Instagram. Read on below:
Hey guys! Today I am interviewing one of my favourite London people! Morgane Maurice from Morgane Maurice Photography. I have known Morgane for about just over a year - but we have tested together on a number of occasions and created some wonderful beauty content together. We align on a lot of views and values in both life and profession, so I'm really happy to be chatting with her today about all things beauty and photography!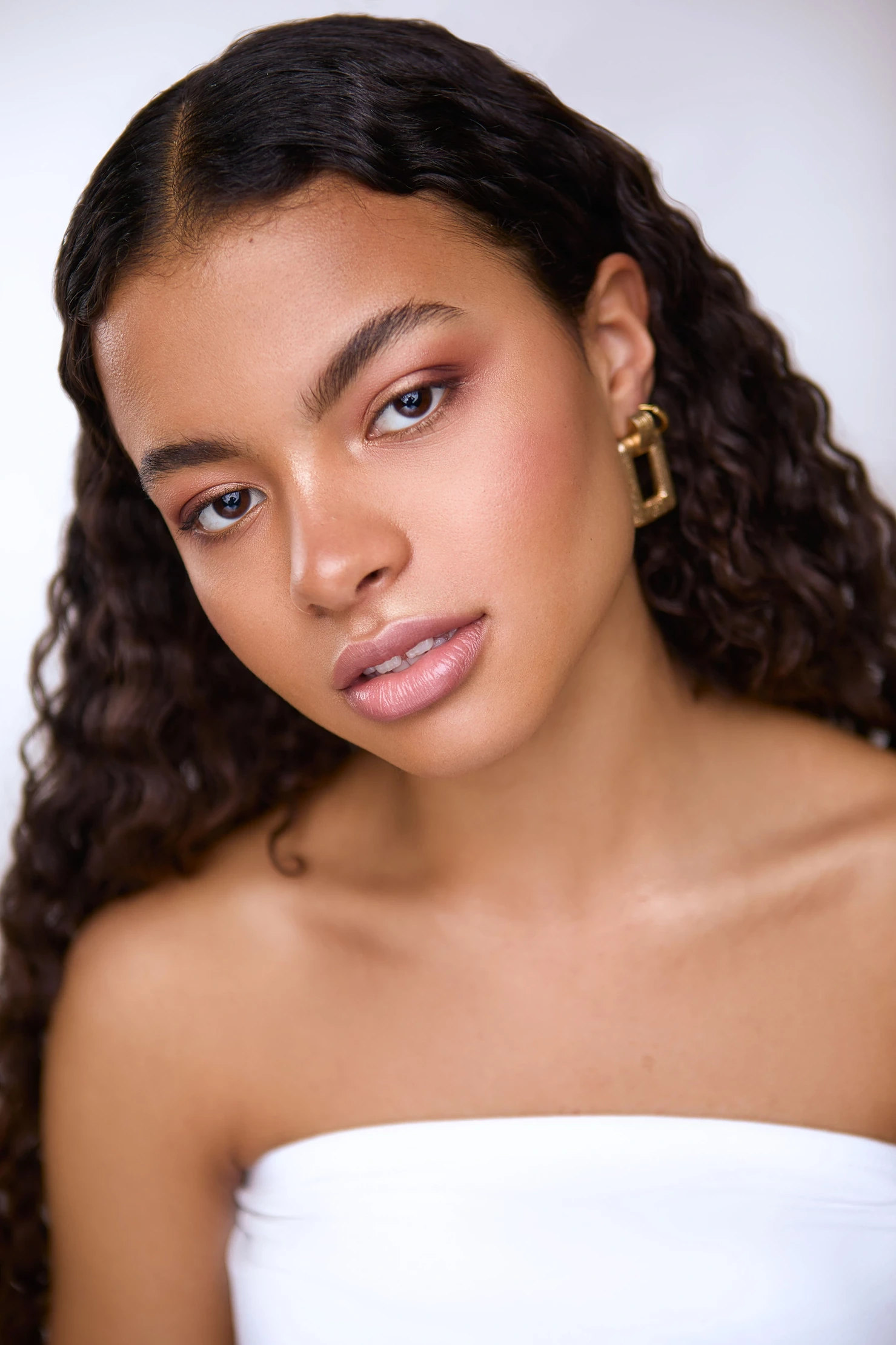 Please introduce yourself to the readers! A little background about you, your history and what got you into photography!
Hello! My name is Morgane Maurice and I'm a Paris born, London based fashion and beauty photographer. I've always loved photography (I took my first pictures around 2 or 3 years old, taking my dad's camera to photograph my Barbies) but for a long time it wasn't something I considered as a job I could actually do.
Whilst studying fashion design in Paris I started taking photos of my friends' projects and that first got me interested in Fashion photography. Then I moved to London to study at the London College of Fashion where I began taking even more pictures. After graduation I worked all sorts of jobs unrelated to fashion which was tough at times but gave me much better knowledge of things like customer service, outreach, sending invoices, admin… Things that are useful everyday as a creative as you are still running a business!
Finally, I found a job in the art world where I was looking at photographers and agencies every day, which made me think that maybe my photography work wasn't so bad after all. Not long after I started, I had an accident on my way to a meeting and got hit by a truck (yes literally) and it was a life changing moment. I decided it was time to focus on what I really wanted to do - photography- so I handed my resignation and started working as a photographer. This was almost 4 years ago and I've been doing it full time ever since.
What made you specifically want to work in beauty photography?
I guess it's mostly down to 2 things:
-First, I've always been obsessed with makeup. As a kid, I'd steal my mom and grandmas' makeup and to their despair would paint my face with it any way I could. I love the transformative power of makeup and how you can create a mood or story with it. Whenever there would be a MUA on set I would always be chatting to them to find out their favourite tips and products and as an everyday thing, I really enjoy taking this time as a sort of ritual to start my day where I can relax and have fun.
-Second, even when shooting fashion, I've always been drawn to portraits. They say that eyes are the window to the soul and I love capturing this moment. It's maybe a bit creepy but when I take a photo of someone, I like to think of it as a little memory of them that will stay on forever. There's something much more intimate about a closeup portrait, where the subject has to be comfortable as you are literally standing up in their face (at least the way I shoot it). Combining that with the hair and makeup element just felt like a natural evolution.
Do you have a "style" in your branding and/or work?
People often tell me that they can recognize my images before they even see my name and that for me is one of the best compliments. I'm used to shooting a lot of fast paced street style in natural light for private clients and at fashion week, although beauty is completely different, I think I'm still influenced by that. It's also very important to me to shoot with a wide range of models of different skintones because it shows that "beauty" is varied and comes in all colours.
I hate shooting on a tripod and like to be able to move around to capture different angles rather than let my model do all the work. I also shoot a lot, pretty quickly, and then move on to the next thing (the actual taking of the photos on my shoots is probably the fastest part). I love shooting with colours but keeping it a little muted and I like my lighting to be on the softer side. I guess my favourite look would be natural light, but better.
Can you tell me a little bit about your processes? How do you go about creating the perfect lighting conditions and/or setup?
I'm a bit obsessive about my lighting! But it is probably the most important thing in photography. Before even selecting the models or team, I like to think of the makeup looks we'll be shooting and usually create moodboards with different skintones as what works on a pale blonde will not on a dark-skinned brunette.
Different MUAs have different strengths so I try to think of who would be best to create that concept and how to complement it with styling. Then I choose models who I think would be suited to the different looks.
Then I'll start to think of my lighting and set and decide what I want to use. Maybe it's a certain colour of backdrop that will complement the colours we're using in the make-up or a tint on one of the lights. Finally, the day before the shoot, I'll try the lighting setup on myself to see if I like it and make adjustments as well as practicing some poses. Not all ideas end up working so I like taking that time beforehand to test it out with no stress so I can be quick and efficient on the day. There's still room for improvisation but at least I have a good base of what I want to achieve. It also puts me in the place of the model so I know if they'll be sitting comfortably and if something is achievable or not.
What makes a great beauty shoot?
Personally, I would say preparation, being present and a good team. Everyone is different and some people like to freestyle but I like to have a general idea of what everything is going to look like in advance (maybe I am a bit rigid on this).
There's not always a lot of time on shoots and I don't want everyone to be running late so I like to set a schedule for each look and it helps if everyone already knows what they'll be doing and when.
It's also crucial to have a team that is reactive and ready to jump in with suggestions or fixing something as everyone will have a different eye and notice things others might not.
Lastly, not being afraid to voice if you don't like something. Not everything works at the first try so it's important to be honest and say there and then if something needs changing, rather than say nothing and regret it later. If you're not sure, just try a few variations until you find what works.
Ultimately I think that magic happens when everyone is on the same wavelength and feeds off each other's ideas.
What is your personal favourite thing to shoot right now?
Now and probably forever, I love shooting colour. Whether it's a touch of soft pastels or a colour explosion I think it brightens the image and gives great possibilities to play with in terms of styling and props.
Do you work alone or have a team?
Usually with a team. The model, the hairstylist, the makeup artist, the stylist… Everyone has some ideas they can bring to the shoot.
What business advice would you give newer photographers looking to shoot beauty?
Ask yourself if this is something you really are interested in: beauty is one of the most time-consuming things you can shoot, especially if you are retouching it yourself, and it will probably take time before you book jobs off it. Start researching and practicing your retouching on stock images so you have an idea of what to do.
If you're still interested, this is a bit cliché but it's true: just do it! Unlike fashion, you don't need a lot to shoot beauty. A white wall, a light source, a model and a team and you are ready to go. Experiment with different styles and people until you find what works for you. Also try to find unique concepts and looks that you like and make it your own, rather than trying to reproduce exactly what you've seen other people do. Chances are, they're already doing it better than you so it's better to find what makes you unique.
What is a common misconception about our industry?
That things are easy and happen overnight! I think working as a creative is a constant cycle of self-doubt, research, grinding and trying to find balance. The first year or two in your business are usually make or break and many people feel miserable in that time (and even after).
Here's a hard truth: talent isn't everything. People that become successful are able to do so because they work hard and are relentless. Even if at first they don't succeed, they don't give up, pick themselves up and try again (in the wise words of Aaliyah).
Unfortunately, you could be very talented but if you don't put yourself out there and just wait for things to come, you might wait forever. Why would a brand go through the effort of contacting you when they've got 50 people lined up in their inbox eager for a chance?
This being said, we're only humans and it's also ok not to be on you're A-game all the time. The most important thing is to be patient and keep going, even if it's at your own pace. Just be aware it'll probably take longer.
Everyone has different strengths and things they're good at: identify yours and work with them. You'll have to push outside of your comfort zone sometimes but that doesn't mean you have to do things you absolutely hate.
If you're not good at pitching and reaching out, then at least make sure that you very consistently put out work that aligns with the people that you want to work with and over time you might get noticed.
Learn to stand your ground: when you start, you'll have to work extra hard and be extra accommodating and not all experiences will be good. It's kind of a necessary step but make sure you learn from that and put boundaries in the future. With time, you'll learn that some jobs are just not worth it and it's better to say no. It's hard in an industry where undercutting and backstabbing are so frequent but if people don't appreciate your worth, then they're not the right client for you.
One thing I've learned is that people may want to work with you because you're the cheapest, or because you're the best. Which one do you want to be? Clients will definitely treat you differently depending on which category you fall into.
I'll end this on a personal story to prove my point: I once had a big international brand approach me for a job. I had worked for them before at a certain price, and I roughly knew how much they were paying other members of the crew through industry contacts. The price they wanted to pay me for this job was almost half of what they had paid before for a similar amount of work. I was ready to negotiate but not this low, so I said no and they found someone else.
I later found out that the shoot was a nightmare, everyone got stressed, and the person they hired instead of me did something stupid which ended up delaying the shoot. In the end, I never saw any of that person's work be used.
So whilst it was tough initially to say no, in the end I'm just glad I didn't take that job and that brand probably regretted not paying a bit more.
What do you love about working in London?
I love that London offers so many opportunities for creatives, I feel that breaking into photography in Paris would have been a lot tougher. London can be a hard city to live in but if you work hard people will give you a chance. You also have access to so many industry people and you never know who you might run into and meet even just going for a drink. I didn't know anyone when I moved to the country and that still hasn't stopped me from building a network from scratch.
As a photographer I also like that the city offers so many different backdrops to shoot against. From modern to Victorian, beautiful parks and industrial estates, there's a bit of everything if you know where to look.
What is next for your business?
Fashion week! Because of Covid, we haven't had a proper one in London since March 2020 and I'm really excited to be going back. There's just a certain excitement in the air during fashion month you can't find anywhere else. It's always a bit frantic but I love it and it's also a good time to have your work noticed.
It might not be quite the same as before but I'm just happy we get to have one at all and see other photographers I haven't seen in a while. It always feels like being back to school after the summer and meeting all your friends again!
I'll also be going home to Paris Fashion Week where I haven't been back for a year and a half.
After that, I want to continue and expand on my beauty and fashion photography. I already have some brands shoots lined up so hoping to get even more of that!
It's hard to plan when the pandemic still isn't over and things can change so quickly but at the moment I'm really excited for the next months and things feeling like they're getting back to normal a little bit.
We'll see what the future brings!
Thank you Morgane for the most enjoyable read! There are some real gems here applicable to both photographers AND makeup artists - its always super interesting to get the perspective of a photographer! You can find Morgane's work here or her wonderful instagram here.